A dead simple student productivity system with only 4 components [#43]
And a free Notion template that you can start using today!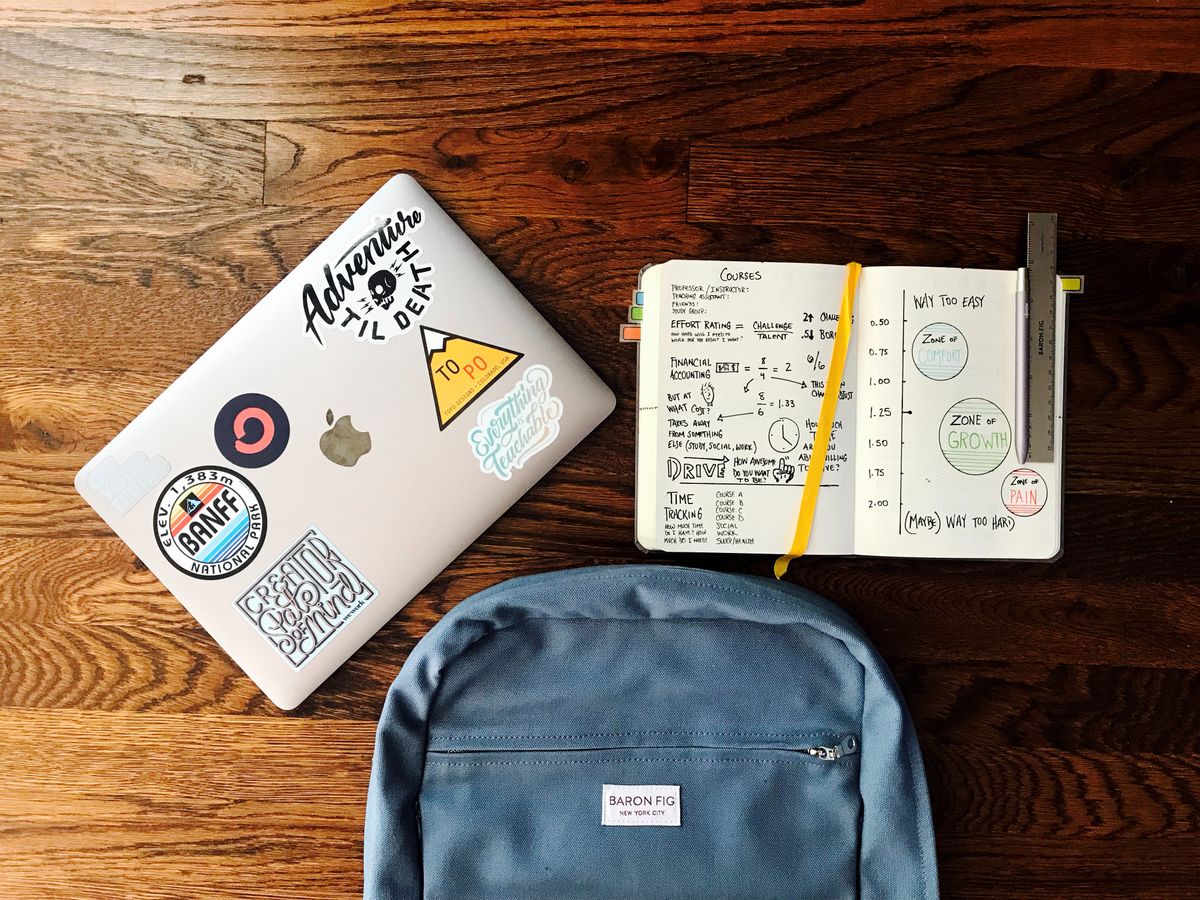 There are only 4 things you really need in a student productivity system. I know that sounds insane, but it's true.
A lot (and I mean a lot) of people like to overcomplicate their student lives. I'm talking overcomplicated Notion templates, planners with seventy billion colors, and weekly calendars that plan out every single second of someone's day. I think these people are overdoing it. And I believe that there are only 4 components you absolutely need for a student productivity system that'll get you As.
For each component, I'll explain:
Why is it so important?
What do I use (and what do I recommend)?
What are some tips and tricks?
Let's jump in! (Oh, and at the end, I'll also share the link to a Notion template that'll help you do all of this for free.)
1. Life Calendar
Why is it so important?
A calendar is the best way to keep track of your daily schedule. It's where you should record all of your classes, extracurricular activities, meetings / appointments, and anything else remotely important. Essentially, your calendar should give you an accurate depiction of your day.
What do I use and recommend?
I use this incredible calendar app called Cron. It connects to Google Calendar, and is basically just a better, cleaner, more aesthetically pleasing version of GCal. I highly recommend Cron (it's free).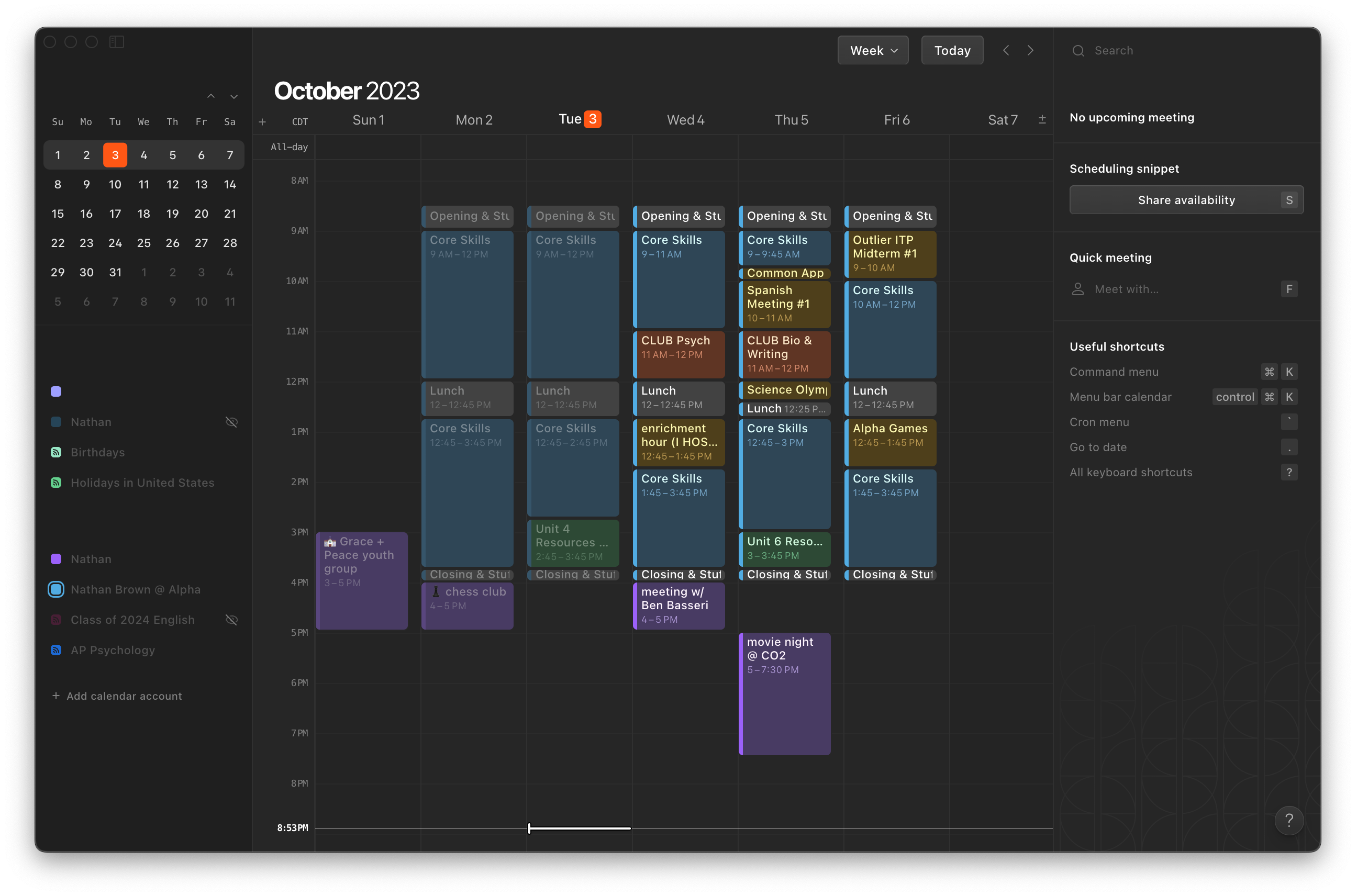 What are some tips & tricks?
Use color-coding! I like to make different events different colors, so it's immediately obvious to my brain what an event entails. I use blue to signify 'schoolwork', yellow to signify 'meetings', and purple to signify 'personal events'.
Don't schedule all 24 hours of your day. It's best to leave some time for fun and spontaneous plans.
Once you schedule something, immediately put it on your calendar so you don't have to remember it.
Every Saturday or Sunday, take 30 minutes to organize your calendar for next week. It's an amazing way to just get a rough idea of what your week looks like.
2. Deadline Calendar
Why is it so important?
You cannot trust your brain to remember all of the homework, quizzes, midterms, and finals you're assigned. It's way easier on your poor brain if you make a piece of software remember it for you.
What do I use and recommend?
I love Notion because it's just so flexible and incredibly easy to use. It's also easy to incorporate other elements of your school life into Notion.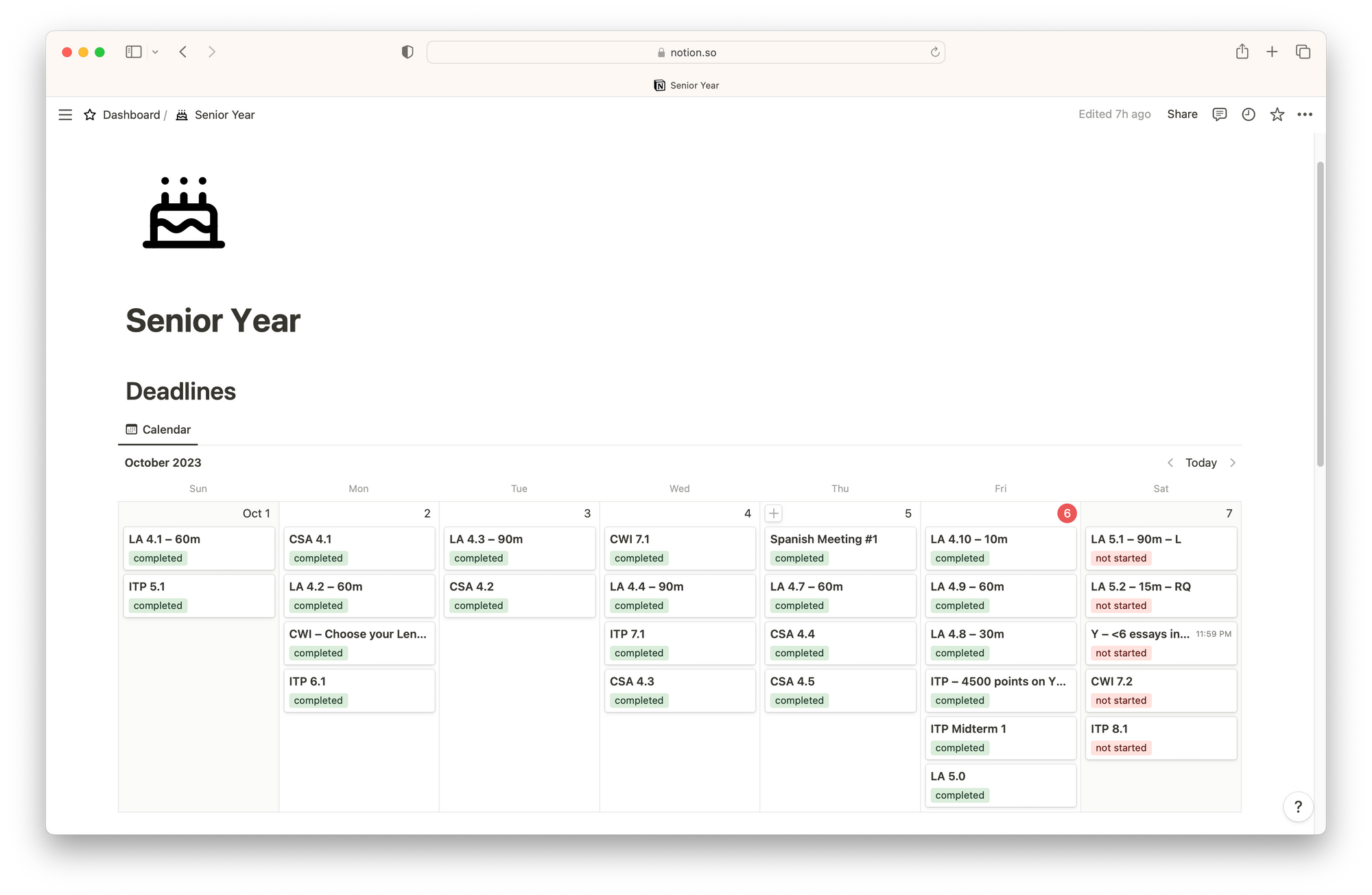 What are some tips & tricks?
I do not recommend adding deadlines to your life (personal) calendar. It's much more convenient to have two separate calendars.
Anytime you see or hear a deadline, record it in your deadline calendar so you don't forget about it. I recommend recording:

A unique two-letter identifier for the course. Examples: CO if you're taking Computer Science, US if you're taking US History, PC if you're taking precalculus, and so on.
A brief identification of what the deadline actually is. For example, if you need to complete 2 pages of math homework on pages 31-32, you could write pg 31-32.
How much time you think the deadline will take you, in minutes. If you're studying for a big test, you could write 240m (4 hours). Or if you just have a quick history reading to do, you could write 15m. When in doubt, ALWAYS estimate that it'll take you more time than you think.

For example, if you hear your English teacher say at the end of class: "Homework is due next Tuesday! You need to come to class with a fully annotated manuscript of Lyndon B Johnson's presidential speech and the literary devices he uses!" Let's say you think it'll take 30 minutes, but the teacher is notoriously strict about annotations. As soon as possible, you should write: EN – annotate 3pg LBJ pres. speech – 40m and add it to your deadline calendar for the next Tuesday.
You can use Notion's properties to add an indicator of your assignment progress. I recommend using 'completed' (in green), "in progress" (in yellow), and "not started" (in red).
3. Scratch Pad
Why is it so important?
You need a place to write down incoming information. If the yearbook club asks you to finish editing a piece of poetry by Friday, and you don't have your computer with you, you need a way to remember the deadline somehow. And in general, it is substantially easier to do productive work when you aren't trying to remember everything at once.
What do I use and recommend?
I like to use a physical piece of paper. You can also use Apple Notes, Notion, or any other note-taking app on earth, as long as it's easy to record incoming information.
What are some tips & tricks?
Keep a piece of paper and pen in your pocket.
Whenever it's convenient, add that incoming information onto your life calendar, deadline calendar, or to-do list.
4. Daily Goal List
Why is it so important?
As a high school student, I've tried a lot of strategies to (a) get me to stay motivated; (b) get my schoolwork done; and (c) feel satisfied at the end of the day. A daily goal list has been the only thing that's worked for me. It's a table with five columns, and it's super simple, but it's made me way more productive.
What do I use and recommend?
Notion wins for me (again) because it looks nice and I can put it in the same place as my Scratch Pad and Deadline Calendar. But you could really just use Excel or a Google Sheet.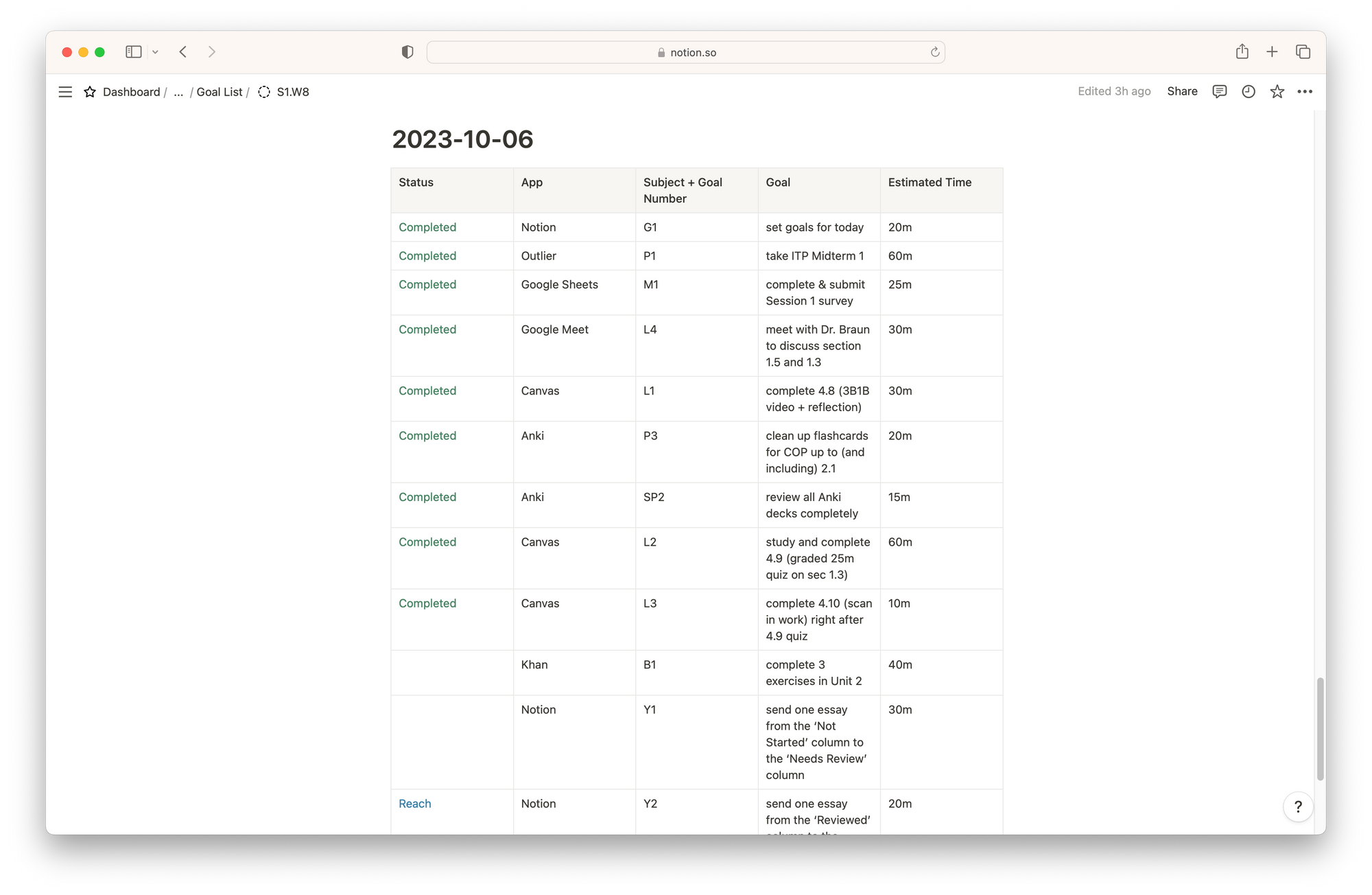 What are some tips & tricks?
Add the date at the top (and you could use ISO 8601, the superior date format)!
Let's break down one row:

'Status' (in the 1st column) can only have a few states – it can be blank, 'Completed', or set as 'Reach', meaning that you'll work on it if you have time, but that the other items take priority.
Add the 'app' that you're using in the 2nd column (or you can just say N/A if you're doing work on paper).
Add the unique identifier (for each subject) and a number to each goal in the 3rd column. For example, if you are writing your second goal for calculus, you would put CO2 in that column, since CO (identifier) + 2 (number) = CO2.
Add your goal (in the 4th column) with as much detail as possible. Make it easy to identify if you've actually met the goal or not.
Add the estimated time for that goal (in the 5th column). Make your best estimate, but always estimate high if you're unsure. You'll be pleasantly surprised when you complete it faster than you planned.

Set your goals before you get to school, if possible.
You should be satisfied with the work you've done that day if you complete all of the items on your daily goal list.
Summary
"So what do I do with all this?" I hear you asking. Well, I've put together a Notion template that you can download and use today. Here's a list of the pros and cons:
Pro: It's free and easy to use.
Pro: It includes the 4 components I've mentioned in this article.
Pro: It's not super complicated.
Con: There isn't much complicated or "cool" functionality.
Con: You have to spend about 20-30m per day setting daily goals and updating your life and deadline calendars.
Here's a preview: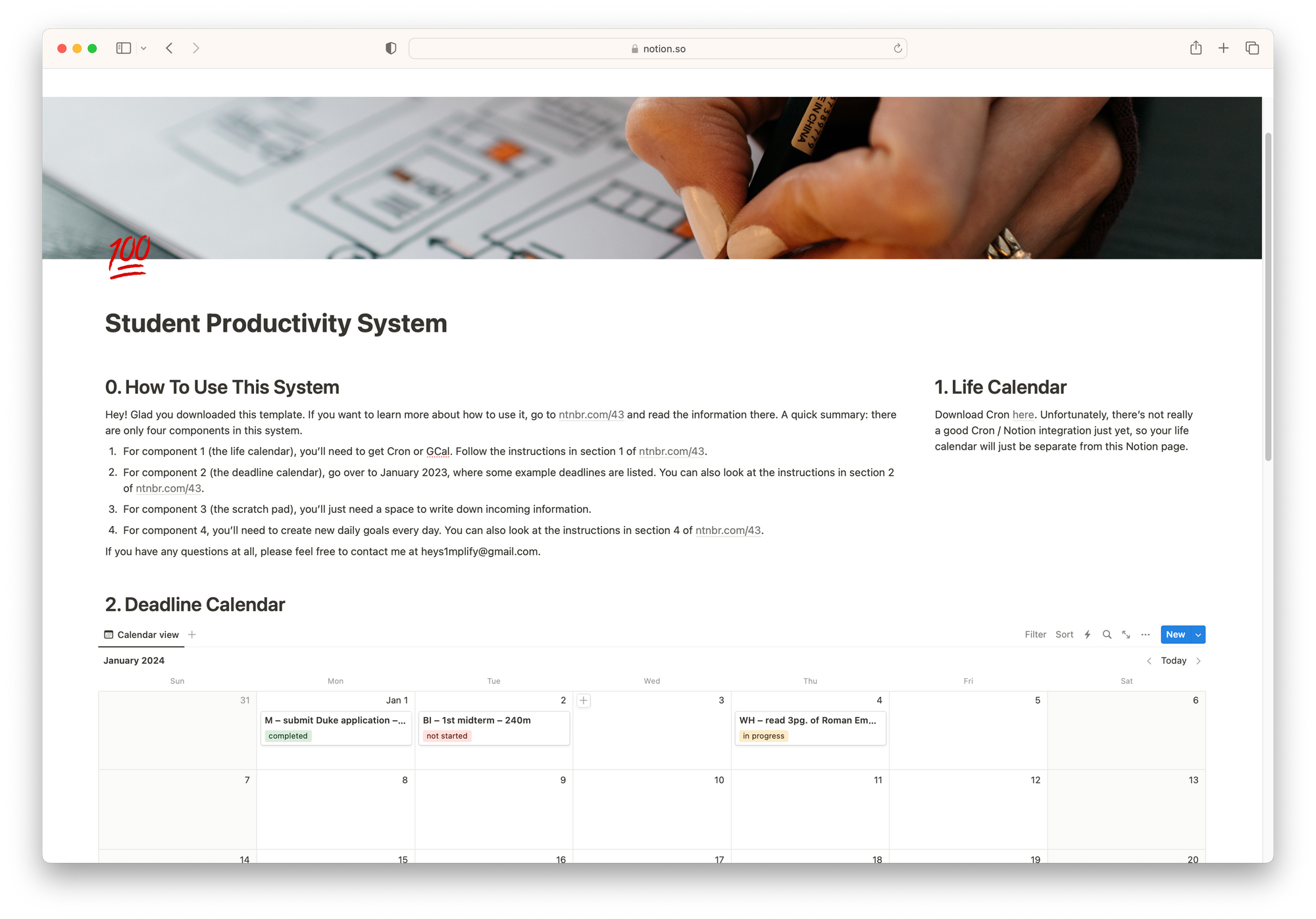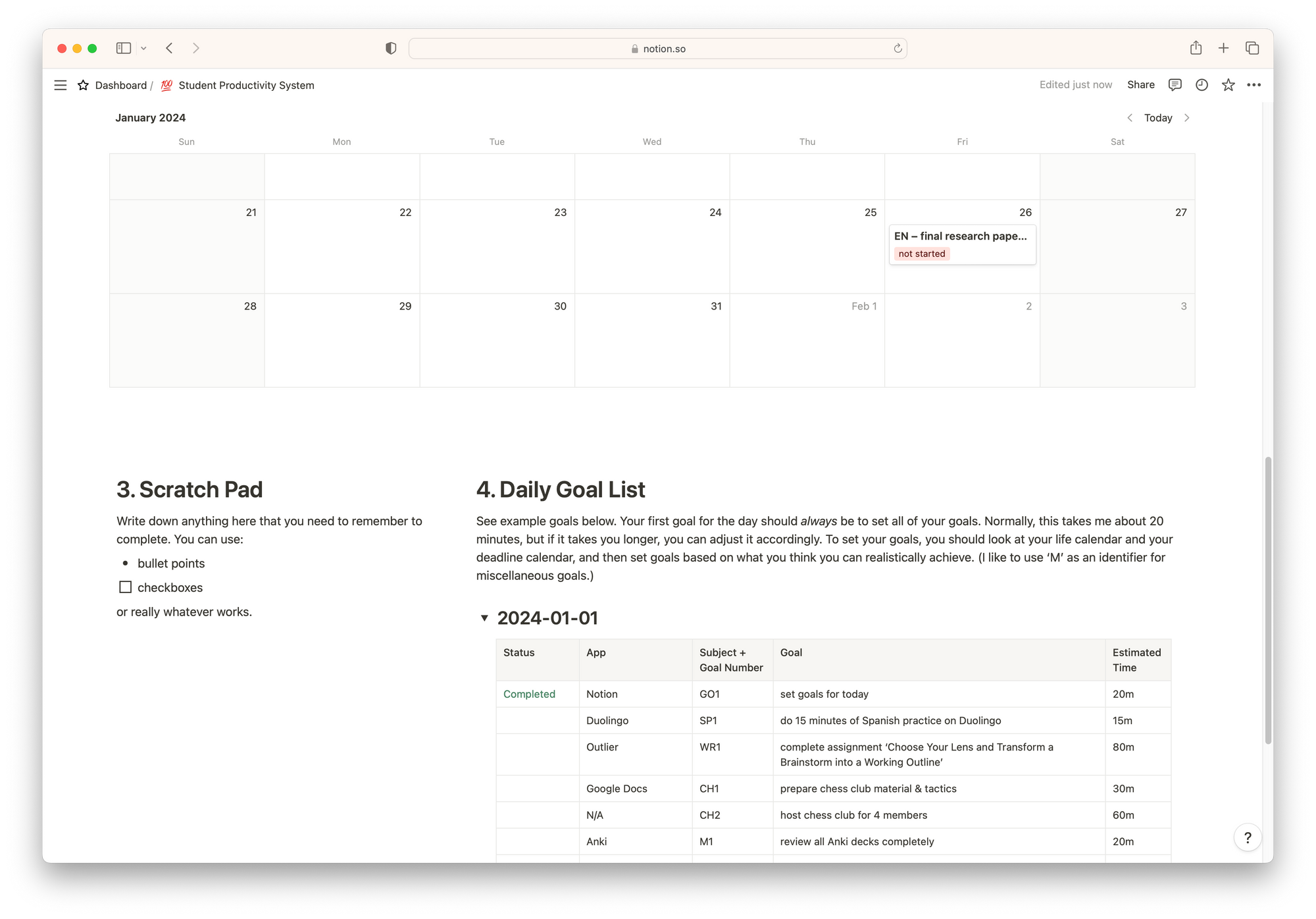 You can download it here. If you have any feedback or questions, feel free to contact me.